By: Jason D. Mills, Director of Marketing and Communications
KMC Conquest Wireless products are a quick, easy-to-install solution that seamlessly incorporates wireless sensors into your current controls network.
The KMC Conquest Wireless line follows the EnOcean wireless standard. This technology standard combines energy harvesting with ultra-low power electronics. Devices using the standard have been deployed in over a million buildings worldwide. They are ideal for facilities where it is inconvenient to run wire, such as historic buildings or multizone spaces.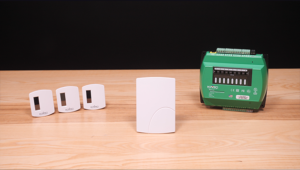 These devices offer a couple major benefits. First, they offer extremely low power consumption, allowing energy harvested from the installed environment to power the device. In many applications, these devices may operate normally without requiring a battery.
Secondly, they are interoperable. EnOcean uses equipment profiles, known as EEPs, to recognize different types of wireless devices. These data templates are maintained in the standard and are used by EnOcean device manufacturers.
The KMC Conquest Wireless solution is made up of a family of room sensors and a receiver. The miniaturized room sensors are available in temperature, temperature and setpoint, and temperature and humidity. These devices use solar to harvest energy for operation, but they also have a battery backup option for applications in low or inconsistent light. Sensors are available in 902 MHz for North American installations, and 868 MHz for international.
Our wireless gateway is the receiver and acts as an access point, listening for data from the wireless sensors. The gateway connects to a KMC Conquest controller similar to a NetSensor, via a standard ethernet patch cable. The controller and gateway are configured to map data from sensors directly to BACnet objects. The data is then available local in the controller or across the BACnet network. Each gateway can listen for up to 16 wireless devices, and multiple gateways can serve the same space to increase coverage area or capacity.
We are a proud member of the EnOcean Alliance of Manufacturers, joining more than 400 members worldwide in developing devices using this wireless standard.