KMC Controls, a leader in building automation systems, today announced the launch of its highly-anticipated KMC Commander Internet of Things solution for the building automation market. KMC Commander earned the Best Intelligent Building Technology Innovation Award at the 2015 Realcomm IBCon conference earlier this year.
KMC Commander is a complete IoT platform based on an Intel® IoT Gateway reference design for building automation that forms an end-to-end solution from sensors and controllers (edge devices) to cloud-based remote management applications. Remote visualization and control are enabled via a cloud-hosted, mobile application-based architecture with secure data access. The solution features an Intel® Atom™ processor, a Wind River software stack with Intel® security software, engineering and design collaboration with Dell OEM, and a data tagging and visualization framework from J2 Innovations.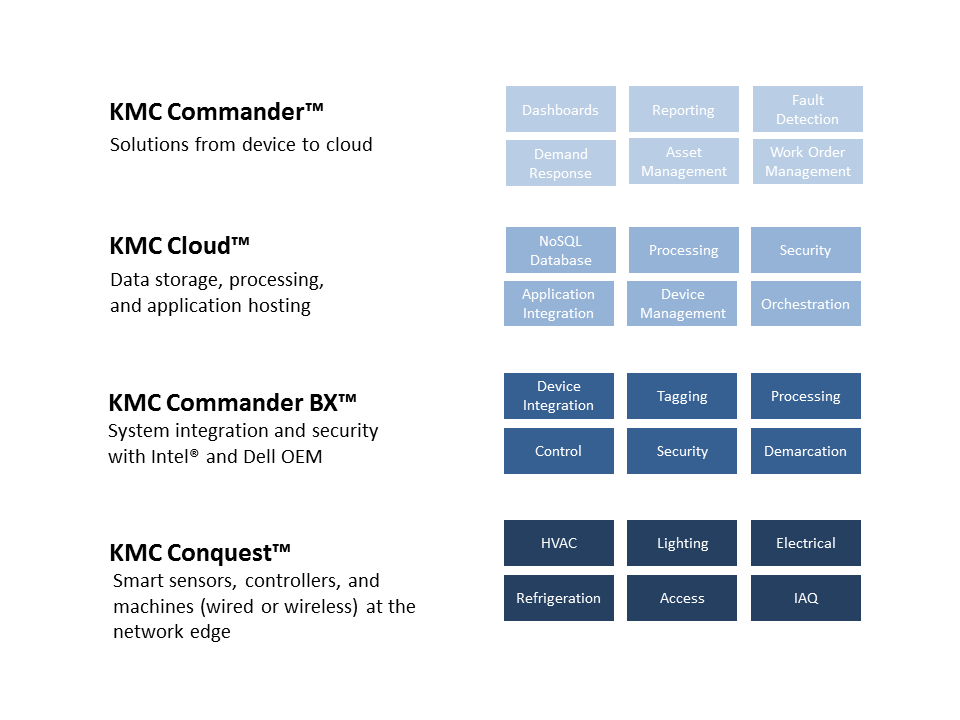 Richard Newberry, strategic advisor to KMC's board of directors said, "IoT connectivity is the future of building automation. KMC is leading the market in developing innovative and intuitive solutions for connecting building automation systems to the Internet of Things." Newberry continued, "Building owners, property managers, and occupants demand openness, robust security, seamless scalability, and ease of use when it comes to controlling their environment, managing their energy consumption, and accessing data to make informed decisions. Commander is the only solution on the market to meet all four criteria."
"The IoT market is saturated with solutions that claim to be cutting-edge, but which end up being clunky and hard to use," said Andy Rhodes, executive director of Commercial IoT Solutions at Dell. "KMC Commander, built with Dell's IoT Gateway, provides a truly open and secure platform to connect building automation systems seamlessly to the decision-making power of IoT. Our partnership is another perfect example of solutions that are specialized enough for the data demands of operational technology (OT) yet seamlessly manageable in an information technology (IT) environment."
"Intel provides building blocks for a scalable edge to cloud solution, including the Intel® IoT gateway reference design based on Intel® Atom™ processor, Wind River* Linux stack, and Intel® security software. These provide a foundation allowing building solution providers to focus on their applications," said Christine Boles, Smart Building Solutions Director at Intel's Internet of Things Group. "KMC Commander, based on Intel® technologies, enables building owners to quickly and easily aggregate, analyze, and visualize building data to drive operation efficiencies and increase tenant's comfort."
Nathan Kehr, KMC's marketing manager added, "We have entered into a new era in terms of how technology can be leveraged to enhance how we experience and interact with the world around us. Intel and Dell established the foundation for IoT, and we're proud to have the opportunity to bring Commander to market with them."
Parties interested in learning more or speaking with the development team may contact KMC Controls at www.kmccontrols.com.
Intel and Intel Atom are registered trademarks of Intel Corporation in the United States and other countries.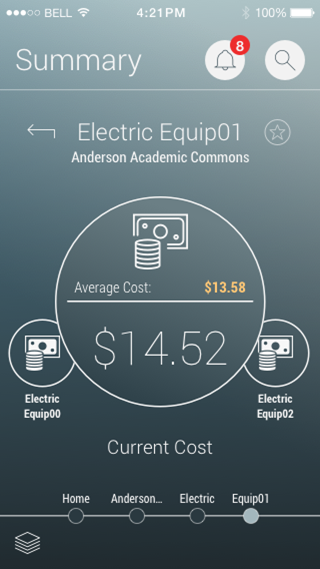 About KMC Controls
Founded in 1969, KMC Controls is an American manufacturer of open, secure, and scalable building automation solutions. From secure hardware devices to smart and connected software, KMC delivers embedded intelligence and optimized control.
KMC is committed to providing industry-leading Internet of Things-enabled automation solutions with leading tech suppliers to increase comfort, convenience and help reduce energy usage.
KMC Controls®: Building Genius™ from the edge to the cloud.