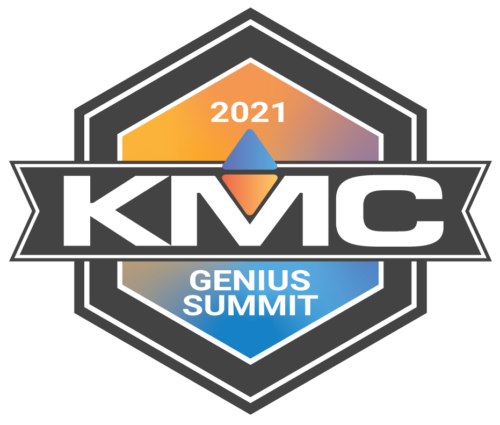 DISRUPT. SECURE. GROW.
If you're not the disruptor, then you're going to be disrupted. KMC Controls is disrupting our industry by offering innovative IAQ products, secure SaaS solutions, and new ideas.
Again, and again we have heard from our partners that finding a recurring revenue stream is vital to their continued growth.
At our 2021 Genius Summit, KMC Controls will share our vision of disruption and innovation that will encourage and equip you to spot new opportunities in your market.
SEE YOU IN MUSIC CITY!
Platinum Sponsors

Gold Sponsors

---
Explore the sessions from our last Summit
---
Day 1 General Session: Rick Lisa
Day 2 General Session: Luis Alvarez
Breakout: Selling KMC Commander with Zoning Retrofits
Back by popular demand, John Ferguson is here to share more insights into Others-Centered Selling with KMC Commander. In 3 sessions, John will equip you to properly engage your prospects, discover their needs, build value above features and benefits, and advance beyond your normal pitch. Using Zoning Retrofits as a backdrop, these sessions will no doubt help shape your company's sales culture and approach.
Breakout: KMC Updates & Best Practices
The KMC team is sharing with attendees our newest product updates and improvements, while spending a significant amount of time demonstrating how to get the most out of your KMC solutions. Divided into 2 sessions, this content will feature KMC Conquest hardware, KMC Converge, KMC Connect, and KMC Connect Lite.
Breakout: KMC Commander Case Studies
KMC's VP of IoT Business Development, Kelly McEuen, will share several case studies where KMC Commander has helped businesses take their first steps into IoT. From basic HVAC examples, to more involved enterprise level solutions, you'll witness the flexibility of the platform while being encouraged to look for opportunities within your current customer base.
Breakout: KMC Commander Installation & Setup
KMC Commander is evolving by leaps and bounds. In this session, KMC's IoT Team will discuss the technology, how it can quickly be implemented, and walk through its many features. Throughout the session, our speakers will also be taking your questions and demonstrating the flexibility KMC Commander will give your IoT strategy.
Breakout: Data Modeling with Project Haystack
An Introduction to the mechanics and benefits of data modeling and Haystack tags for new users and stakeholders. We will highlight some of the step changes we have seen in our industry over the years, and show where the information and applications are heading in the future. Learn how tagging and the Haystack community is helping evolve our Industry.
Breakout: IT / OT Cybersecurity Panel
Security is only as good as the weakest link in a network of communicating machines. The panel will discuss having good "cybersecurity hygiene" (a new-ish term) for yourself and your organization, building awareness of threats and attack schemes, and working with IT to protect customer data and systems, as well as our own. Plus, current C-I-A policies and procedures, when implemented properly, go a long way to protect your systems. But equipment and networks that control physical systems can present requirements that can shift the security triad "backwards" into an A-I-C conundrum. The panel will also discuss OT priority and nuances as they relate to cybersecurity.
Breakout: What Happens When Everything is Connected?
Technology is changing at lightning speeds, and that's forcing many businesses to change the way they approach the use of technology. Come hear what's happening now in the environment, as well as what's coming just around the corner.
Breakout: Niagara Update & Analytics
Hear the recent updates to Niagara, the features and benefits that have been introduced in the last 12-18 months. Also, learn about some best practices with analytics and how you can optimize your use of the solution.
Breakout: KMC Commander Advanced BACnet Networks/Wireless
In this session, we are discussing various scenarios of topologies of BACnet and wireless networks, including cellular, and how to configure KMC Commander for each. Also, we are discussing how to talk with IT about KMC Commander. Lastly, we're answering more advanced questions about alarms, schedules and trends.
ControlTrends Event Featurette
Our good friends and media sponsors, Control Trends, put together a fantastic overview from the event… take a look!