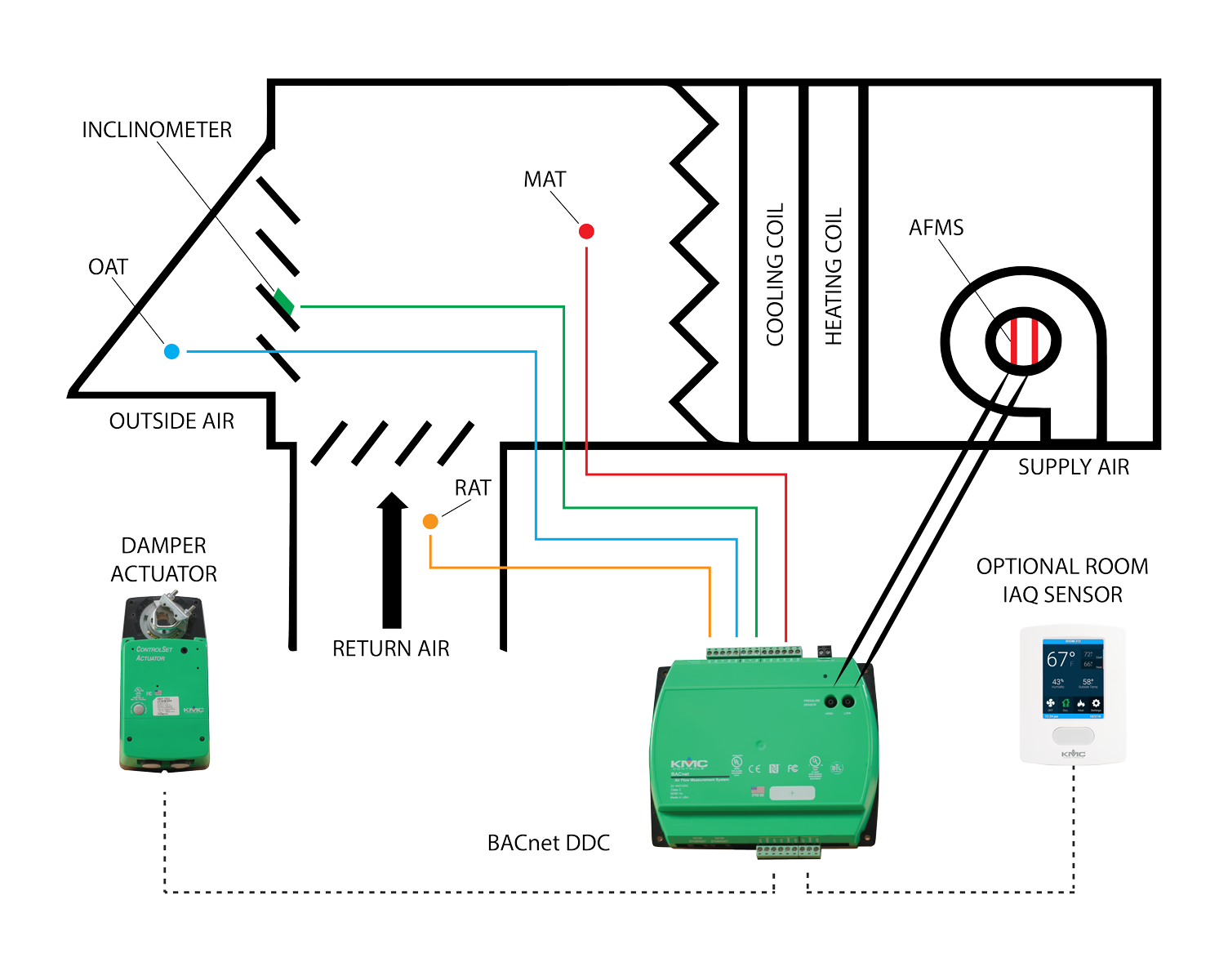 Accurate Airflow Measurement
Accurate Airflow Measurement
The KMC Conquest AFMS provides accurate and repeatable measurements for Outside, Supply, and Return airflow and is unaffected by ambient weather, airborne pollutants, or bends and restrictions in mechanical air delivery systems.  Embedded performance diagnostics monitor system performance to ensure accuracy of readings.
Automated Commissioning, Measurement and Verification
The KMC Conquest Airflow Measurement System programmatically characterizes system performance during commissioning, leveraging the same methods as a TAB technician.  After commissioning, integrated equipment control and system diagnostics are provided to routinely monitor and report performance.
Compliance With IAQ Regulations
Compliance with IAQ Regulations
Ventilation has been recognized as the first line of defense for healthy buildings. Smart infrastructure and high-performing buildings guidelines stipulate that the accurate measurement of outdoor airflow rates are a fundamental component of healthy and energy efficient building operation.
Smart Building Ready
The KMC Conquest Airflow Measurement System is interoperable with any building automation and IoT system, delivering system performance data and diagnostics for equipment analytics. The AFMS can operate in conjunction with existing equipment controls to empower high performance building sequences.
Built on Industry Standards
Built on Industry Standards
The KMC Conquest Airflow Measurement System is interoperable with any building automation and IoT system, delivering system performance data and diagnostics for equipment analytics. The AFMS can operate in conjunction with existing equipment controls to empower high performance building sequences.
Expanded Equipment Compatibility
Expanded Equipment Compatibility
The KMC Conquest Airflow Measurement System can be applied to a wide range of mechanical systems, including unit ventilators, packaged rooftops, complex built-up air handlers and custom-built equipment.
Frequently Asked Questions
Occupant Health, Comfort, & Performance
For a population that spends most of its time in buildings, bringing fresh (outside) air inside is the most efficient and systematic way to improve the quality of the air we breathe. According to the EPA, Americans, on average, spend approximately 90 percent of their time indoors, where the concentrations of some pollutants are often two to five times higher than typical outdoor concentrations. Pollutants can be combustion byproducts, allergens, biological agents (mold), pesticides, lead, asbestos, ozone, or other volatile organic compounds that derive from a variety of sources. However, it is important to note that most pollutants affecting IAQ come from sources inside buildings.
Is the building you're sitting in right now getting the proper amount of outside air? How would you know if it wasn't? What does a building with insufficient levels of airflow look like? Occupants might complain of frequent headaches, frequent fatigue, or they may feel more irritated than normal. These are all symptoms of building related illness (BRI) or sick building syndrome (SBS).
In the United States, it is estimated that poor air quality results in $150 billion of illness-related costs per year, and $93 billion, or 62% of those costs, represent lost productivity from symptoms associated with SBS. It's important to note that those numbers are all pre-COVID. The cost of poor ventilation is skyrocketing and that will not slowdown anytime soon.
Fresh air has such significant health benefits that ASHRAE, CDC, EPA, WHO, and others have identified ventilation as a cornerstone in any IAQ monitoring and control strategy. Proper ventilation has been demonstrated to increase occupant productivity and cognitive function from 8-11% by improving IAQ.
Compliance with Standards
The American Society of Heating, Refrigerating, and Air-Conditioning Engineers (ASHRAE standards 62.1, 111, and 189.1) recommends a "minimum ventilation rate of 15 CFM per person in residential buildings in order to provide indoor air quality (IAQ) that is acceptable to human occupants and that minimizes adverse health effects." Ventilation (defined as the rate of indoor air exchanges with fresh, conditioned outside air) has been recognized as the first line of defense for healthy buildings.
ASHRAE Standard 170 specifies an escalation of air changes per hour (ACH) based on the classification of the space being controlled.
Further, smart infrastructure and high-performing buildings guidelines stipulate that the accurate measurement of outdoor airflow rates are a fundamental component of building design, and integral to achieving certifications such as WELL(R) or RESET(R) building standards.
Optimize Energy Efficiency
Ventilation is critical to occupant wellness and performance. Precise measurement of outdoor airflow can not only improve the experience of building occupants but lead to substantial gains in energy efficiency.
After the energy crisis in the mid-1970's, national conservation measures were put into place, which called for a reduction in ventilation to five cubic feet of air per minute (CFM) per person – a reduction of 66% from previous standards. Compounding the issue, building designers began specifying methods to better seal windows and doors, to reduce infiltration of fresh, untreated air.
Economizers became a fixture of many equipment manufacturers in an attempt to recirculate treated air and lower energy consumption. Since economizers are typically operated by standalone controllers, based on enthalpy measurements, their use has led to further reduction in ventilation rates.
Demand Control Ventilation (DCV) and minimum fresh air reset schemes seek to regulate airflow as a function of occupants in a given space, often using indoor CO2 levels as a proxy for head counts, which impacts ventilation requirements.
Social Trends
Fresh air has always been important, but it's rarely been taken seriously. Incorporating the necessary tools to monitor and control our built spaces has historically been among the first things to be discarded to cut costs.
The COVID pandemic has shone a light on the need for confidence in the safety of built environments, which has become a deciding factor many occupants considering their Return to Office (RTO).
Among the critical factors that Facility Managers and Building Owners must consider are:
Direct link between improving IAQ and occupant performance (all sectors)
Confusion around best practices to improve IAQ
Workforce reluctance to reoccupy buildings
Tenants moving to buildings that prioritize building wellness
Consumer desire for user-friendly interface showing healthy building attributes
IAQ certification standards
Current Market Deficiencies
Traditional technology has inherent performance limitations. A brief list of common occurrences that can impact traditional outdoor airflow measurement device accuracy include:
Wind gusts
Low air velocities
Ambient weather variations (temperature and humidity)
Airborne particulate matter (dust, dirt, pollen, waste)
Damper blade deterioration and system hysteresis
Mechanical system bends or restrictions (that affect airflow)
Other common concerns include:
Physical equipment limitations
Unrepeatable, inconsistent measurements
Prohibitive cost of implementation and maintenance
Traditional Technologies
There are numerous airflow measurement technologies available, but few that can produce repeatable, accurate measurements for all types of equipment. Nearly all measurement devices have extremely restrictive installation parameters, which can limit the equipment that traditional devices may be applied to.
Differential pressure (which uses pitot tube) is an accepted standard for measuring airflow, but it is not recommended for ducted systems that have bends or restrictions, or for measuring low velocities.
Thermal dispersion sensors have proven to be accurate in measuring low velocity airflow, but airstream pollutants like dirt, dust, feathers, cobwebs, or animal waste significantly impact performance. Thermal dispersion sensors are also affected by bends and restrictions in ductwork. Additionally, thermal dispersion sensors require regular maintenance and factory calibration for any repair.
Conditioned orifice plates are effective but may require significant modification to mechanical systems, resulting in the highest installed cost, and they are not guaranteed to be a fit for all equipment. Additionally, when measuring low velocities, a conditioned orifice must artificially amplify the differential pressure across the orifice, which compromises resolution and accuracy.
Cost
The cost to install the KMC Conquest Airflow Measurement System can be dramatically less than traditional technologies. In addition to the price to purchase and install AFMS devices, many existing technologies require expensive modifications to ductwork or equipment to meet factory recommendations for accurate measurements.
To deliver impactful return on investment, an airflow measurement solution must be affordable and reliable. Inclinometer technology, coupled with the characterized system method of outside airflow measurement represents an economical way to maximize the performance metrics available for visualization or measurement and verification (M&V). Real-time measurements, KPI's, and embedded diagnostics can be monitored via a local display or integrated to any building automation system.
Ongoing maintenance costs are minimal since the supply airflow measurements are taken in filtered air. To further reduce installation cost, existing equipment sensors and actuators may be repurposed for calibration, then relinquished for routine operation. It is recommended that wherever possible, a hard-wired sensor connection is utilized as opposed to passing equipment data over the network.
To ensure long-term accuracy, system diagnostics are regularly performed using automated air-measurement methods (ASHRAE standards 62.1, 111, and 189.1). If the system is found to be out of tolerance, the calibration routine can be reinitiated to establish an updated characterization curve that reflects the current mechanical system.
Recently, funding mechanisms like ESSER have been made available by the Federal government for improvements to Indoor Air Quality (IAQ) in educational facilities. The amount of funding and qualifying activities vary by state and are listed in the State Plan.  Installation of airflow measurement stations has been funded by ESSER in a variety of applications – most commonly to improve ventilation and establish IAQ dashboard products like KMC CommanderAQ.
Considering the advantages of utilizing a characterized damper airflow measurement system, it could make proper ventilation achievable for nearly any building.
What's the solution?
The patent pending KMC Conquest Airflow Measurement System is a revolutionary approach to measuring outside airflow. The system uses a characterized system method to measure outside, return, and supply airflow.
Using a high precision inclinometer to monitor outside air damper blade position, performance not impacted by ambient weather, wind gusts, low air velocities, airborne pollutants, turbulent airflow / duct bends & restrictions, or any of the other traditional pitfalls common to traditional airflow measurement technologies.
How it works
The KMC Conquest Airflow Measurement System measures airflow by characterizing outside air damper performance, similar to the way that a pump performance curve is created.
This method allows the AFMS to determine the composition of supply air at any outside air damper actuator position.
The System programmatically establishes the characterization curve using a Learn Mode sequence, leveraging the relationship between an inclinometer, mounted on the outside damper actuator blade or linkage, and the Temperature Ratio Equation. Alternatively, a characterization curve may be established manually by a qualified TAB technician.
During learn mode, the damper is positioned at several known points.  At each point, supply fan airflow, as well as Outside, Return, and Mixed Air temperature readings are allowed to stabilize before being sampled, averaged, and stored in the characterization curve.
Learn Mode Characterization
ASHRAE standard 111 requires 25⁰-50⁰ ∆T (F) between Return Air (RA) and Outside Air (OA) temperature for the most accurate calculations
The AFMS Learn Mode may be scheduled to begin automatically when >15⁰ ∆T is present between the OA and RA temperatures for approximately two hours.
A time allowance is included for temperature sensor stabilization and multi-sampling.
The requirements for initiating Learn Mode are minimal. Execute when:
Building can maintain >15⁰ ∆T between RA and OA for minimum 2 hours
Typically at night (less thermal variance due to Sun & reduced occupancy / less need for system override)
There is no possibility of mechanical or environmental faults

E.g. Freezing, over-pressurization, excessive humidity, etc.
Damper Characterization Method
The outside air damper characterization curve is the basis for all measurements on the KMC Conquest AFMS.
A high precision inclinometer(compliant with AHRAR Standard 189.1: Device Criteria) is fixed to an outdoor damper blade to measure position of the damper accurate to within 0.001° of deflection. Using an inclinometer reduces inaccuracy due to damper blade deterioration or hysteresis in linkages that is imperceptible from damper actuator feedback.
The characterization curve establishes the composition of supply fan airflow, by using the Temperature Ratio Equation specified in ASHRAE Standard 111, similar to the way that a TAB technician would execute an air balance on a piece of equipment
Characterizing damper performance has the added benefits of being unaffected by intake configuration, non-laminar airflow, and leakage in the mechanical system.
Pressure Assist
Many equipment manufacturers include features like filters or air bypass streams in mixed air chambers. As the equipment operates, these components can affect outside airflow being drawn into the equipment.
To monitor these conditions, the KMC Conquest AFMS uses a [Pressure Assist] feature. This feature can be used on any system but is specifically recommended when:
Relief fan that is variable speed OR operating independent of mixed air damper position
Return fan that is NOT controlled by a Supply / Return Fan offset
Bypass damper for a heat recovery system
Return VAV boxes
Supply to return bypass (or bypass damper is used in place of a VFD)
Pressure Assist corrected airflow rates are determined by the OA damper characterization process and aggregation of variables affecting airflow through the mixed air chamber
Control Modes
If the KMC Conquest AFMS controller is being used to manage equipment operation, it may be configured for four basic modes:
Pass Through

Damper is controlled by an external source (existing BAS, etc.)

Mixed Air Temperature
OA Volume
Damper Position
NOTE: Customized control modes / equipment sequences can be accomplished through additional programming
Diagnostics and Faults
The KMC Conquest AFMS natively monitors the following properties, to ensure accuracy and equipment performance:
Sensor Faults

Outside Air, Mixed Air, Return Air, Differential Pressure

Damper Faults
OA Flow Status
Active Control Mode Faults

Position, Mixed Air, OA Volume

Title 24 Faults
These diagnostics may be viewed locally or reported through a building management system.
Leroy Public Schools
Leroy Public School is a rural school in mid-Michigan with an existing KMDigital control system.
Existing unit ventilators in classrooms and breakroom
Variable and Constant Volume
Coil Face Velocity
Installation by KMC Controls took 2.5-3 man hours
Monitoring Outside Air, existing KMD system
Denver Public Schools
The installation at Denver Public Schools was completed in a single day in less than 6 man-hours on a Daikin rooftop unit with powered exhaust.
Supply Air Duct Pitot Array
Installation by LONG Building Technologies
Trended by Commander
Monitoring Outside Air
Existing factory mount Microtech Controller
Chicago Public Schools
Whole building air handler unit (55K CFM), room-sized mixing box with multiple outdoor air and return air damper assembly's.
Whole building Air Handler Unit – 55K CFM
Supply Air Fan Inlet Measurement
Installation by Stanton Mechanical took 5 man hours
Integrated to existing PNEUMATIC control system
Third Party Balancer