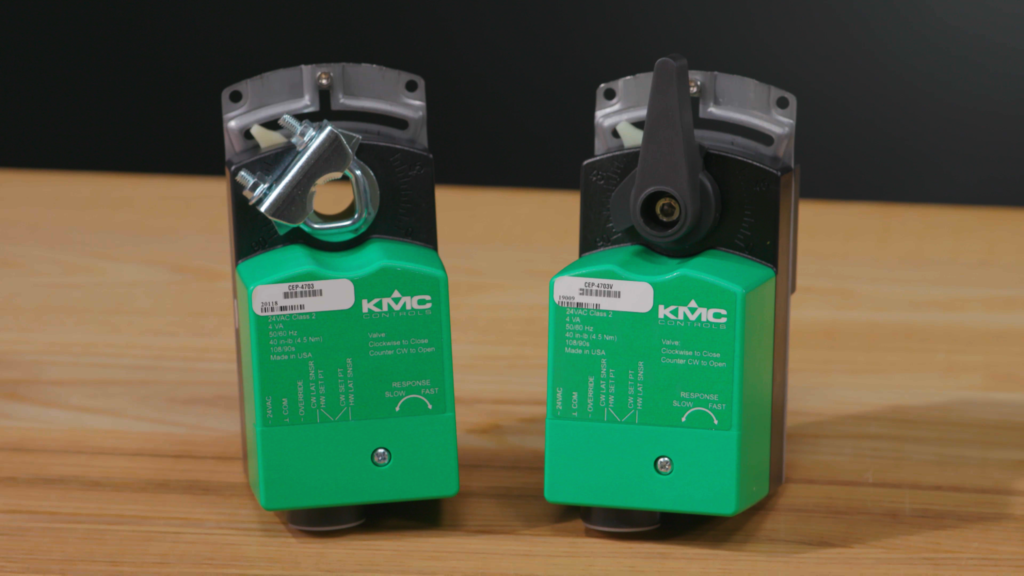 By: Jason D. Mills, Director of Marketing and Communications
Our compact, analog electronic CEP-4703 series combination controller-actuators are designed to control the discharge air temperature, or DAT, for fan coil and unit ventilator applications.
The series can be configured for heating or cooling. The DAT temperature setpoint is determined by a separate resistor connected to the terminal block. The DAT temperature is measured by a remote STE-1401, or another 10K Type III thermistor sensor. A sensitivity adjustment determines the response speed as temperature changes move away from the setpoint.
When a CEP-4703 series device is connected to power:
The actuator drives to the fully closed position for two minutes.

If the override signal is present – contact closed across two terminals – indicating system "On," the actuator waits one more minute and then starts controlling.
If the override signal is absent – contact open – indicating system "Off," the actuator waits in the closed position.

Whenever the system goes "Off," the actuator stores its current position and then drives to the fully closed position.
Whenever the system goes "On," the actuator returns to its previous stored position, waits one minute and resumes controlling.
There are two models in the series. The CEP-4703V has a bracket with a patent-pending, quick-mounting mechanism for attaching to valve bodies. The CEP-4703 mounts directly to one-quarter to five-eighths inch round shafts or one-quarter to seven-sixteenths inch square shafts, eliminating the need for expensive and complicated linkages.
An HMO-4002 non-rotation bracket, to prevent lateral movement, is included. If direct mounting isn't practical, we offer an HLO-4001 crank arm kit. And if you need to span open distances, be sure to pick up an HMO-4001 non-rotation "T" bracket. A gear disengagement button allows easy manual positioning of the actuator.
For more information on the CEP-4703 series Analog Differential-Pressure VAV Controller-Actuators, check out the online documents for the devices.