CIO Review Magazine recently named KMC Controls as one of the 50 Most Promising IoT Solution Providers.
As cities continue to become more complex and densely populated, taking control of the spaces we inhabit—and making them more intelligent—is critical to conserving energy and resources, elevating living and working standards, and saving money. When it comes to exploring the reality of smart buildings, the reluctance to change, the risk of the unknown, and the lack of technical expertise in implementing IoT are barriers to unlocking new opportunities to drive real value and higher performance. This is precisely what KMC Controls intends to solve. On a mission to achieve higher levels of energy efficiency and indoor environmental quality, KMC Controls acts as a trailblazer in digitizing facilities and building systems with its innovative and intuitive solutions.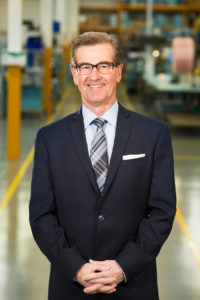 "Today, the majorities of buildings are very inefficient and are using 15 to 30 percent more energy than they should be. In this scenario, smart buildings are the low hanging fruit of IoT. 2019 is going to be a significant year for real estate as buildings will be more efficient and result in strong ROIs," begins Richard Newberry, CEO at KMC Controls. With more than 30 years of executive and general management experience in energy, oil and gas, technology manufacturing, and building automation segments, Newberry brings an in-depth understanding of what's slowing down IoT adoption and a total solution view to address the challenges. "The key ingredient in the successful implementation of IoT for a smart building is simplicity—eliminating over-analysis of data and starting with a simple opportunity backed by a well-thought execution plan," he adds.
Designed specifically for owners and facilities managers, KMC Controls' powerful building automation platform, KMC Commander, allows customers to execute their energy efficiency strategy incrementally. An end to end solution, KMC Commander addresses challenges in commercial real estate using sensors and IoT. The solution connects sensors, building systems, and devices to the cloud, making it simple to transfer data. Built on the Dell Gateway, the solution uses the Haystack tagging methodology coupled with BACnet, Modbus or SNMP protocols to discover the devices and populate the dashboards. The devices stream critical data on energy usage and ambient conditions in real-time through the solution, which publishes information on dashboards and cards. The easy-to-install KMC Commander manages the data through a database whereby a user can determine who has access to what data and allows technicians to monitor and control KPIs with a holistic view of the information.
Backed by advanced analytics, KMC Commander demonstrates true implementation of predictive and preventive solutions/equipment, ensuring more efficiency. KMC Commander can effortlessly scale to meet growing business demands.
But to establish its credibility among the customers, Newberry lists four crucial features of the platform that help increase technology adoption. First off, as an open solution, KMC Commander ensures that the clients own their data and can partner with anyone of their choice. Secondly, from the cybersecurity perspective, KMC Controls has partnered with leading tech companies such as Intel and Dell to develop the highly secure KMC Commander software. Thirdly, the highly scalable software meets the changing demands of the building owners, assisting them in making not just a smarter building, but a 'genius' building. Lastly, KMC Commander allows clients to look at their overall plan; or pick one issue and solve it, with the option of tackling more problems later, as their budget permits.
Advancing with their innovative platform, KMC Controls has marked their presence in the K12 marketplace. The company is helping a private school look after the maintenance of the building by connecting KMC Commander to the HVAC, lighting, backup generator, refrigerated areas, and floors. These sensors help the administrators to detect and screen erosion. "What is unique about our platform is that it allows students to leverage the data to write codes using our open API. The platform aids the marriage of education with operations, and involves students' participation in the operations, enabling them to understand the nuances of a building and how people can make the building smarter over time," says Newberry.
Currently, KMC Controls is focused on partnering with various analytics software companies to open up the data from KMC Commander through an open API. These partnerships promise to add value to their joint customers to increase the efficiency of the building, reduce the energy usage, make it more comfortable for occupants, and create more space to increase the value for real estate. On the device end of the equation, KMC Controls is partnering with several device manufacturers since the more devices KMC Commander can automatically discover, the more valuable it becomes.
"Companies are developing additional SaaS solutions on KMC Commander, enabling our integrators to make more improvements and realize greater savings," mentions Newberry. Moving ahead, KMC Controls will expand its legacy to South America and Europe in 2019 and revolutionize IoT in real estate sectors in the years to come.