KMC Conquest provides you with incredible flexibility for all types of controls jobs. When it comes to retrofits, sometimes the existing room sensors are still suitable and working great. Why replace what isn't broken? Keep costs down and lighten your workload with the HPO-9005 Room Sensor Adapter, KMC's newest (and some might say, most adorable) electronic product.
The Adorable Adapter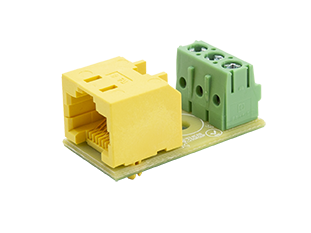 As you know, the Room Sensor port in a KMC Conquest controller is designed to automatically connect and configure a digital NetSensor and certain KMC analog sensors using a standard Ethernet patch cable. Now with the HPO-9005 adapter, you can use that same port and patch cable to connect Type II or Type III 10K ohm sensors, giving you the option to reuse many of the existing sensors on a retrofit job. It also allows you to use different kinds of sensors in new installations – such as a flat plate sensor like the KMC STE-1430. Plus, with the patch cable in place, you can easily upgrade sensors to a digital NetSensor when the opportunity presents itself.
This tiny, yet handy adapter is just another example of how at KMC, we are always looking for ways to help you be more flexible in your system designs, more competitive in your bids, and more efficient on the job site.
Click here to learn more about the HPO-9005 Room Sensor Adapter.