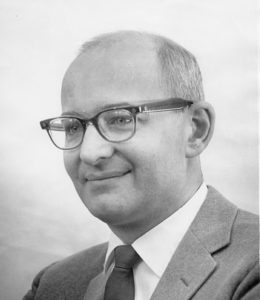 Our founder, Ken Kreuter, would have turned 90 in 2018. Though we lost him in 1995, we are thankful for his establishing this company with such a spirit of innovation. When Ken founded the company in 1969, it specialized in pneumatic HVAC controls for the OEM market. Over time, the company became an industry visionary – looking for voids and developing and building on new technologies to fill these needs. This led to expansion of the KMC product line, such as the addition of digital controls in the 1980s and configuration software in the 1990s. Under the leadership of CEO Richard Newberry, KMC Controls continues this spirit of innovation and market awareness with KMC Commander, the company's Internet of Things (IoT) solution for building automation.
Let's take a look back at some snapshots from our company history. Hover over each image to learn more about it.
This April 1964 Robertshaw CSD Transmitter features our founder, Ken Kreuter, who was the company's assistant vice president/manager, Midwest Development Center at that time. Thank you to our partners from Robertshaw for allowing us to use this "confidential" material!
Did you know KMC Controls was not always based in New Paris, Indiana? In 1974, we moved into our first non-residential headquarters in Thief River Falls, Minn.
Here is a demo panel from the mid-1970s featuring the original line of KMC pneumatic relays. Some of these are still made today as part of our RCC-1500 series!
Here is KMC founder Ken Kreuter (right), John Harvey of Robertshaw Controls Company (middle) and Lyall Steger of Steger Supply Company (left), at the Kreuter Manufacturing facility in Thief River Falls, Minn., in the mid-70s.
KMC's UFO line? Here's a calibration fixture built at KMC for our first analog electronic thermostat, circa early 80s.
This display, made in the early 1980s, shows the different models of KMC's first thermostats.
Our facility in New Paris, Ind., has grown over the years! Here we are in 1981…
The following is a selection of ads from KMC's past. Click to see the gallery.