Building automation systems use protocols to standardize the way devices communicate over networks. For the purposes of this blog, a protocol is an accepted rule or standard for data sharing between building automation equipment. There were many different protocols developed as equipment manufacturers released new products to the market. KMC Controls® was not immune to the trend of developing proprietary protocols. We had our KMDigital line in the '90s. But we were quick to see the benefits of open protocols and the industry began shifting away from proprietary systems. This is mainly because open systems allow for greater flexibility, scalability and interoperability.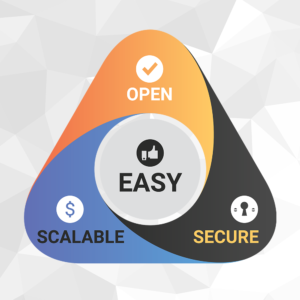 A fully open protocol is one that is developed and deployed to equipment without licensing or fees. Today, KMC is dedicated to using open protocols in the building automation space, such as BACnet, Modbus and SNMP.
The main advantages of using an open protocol include:
They are supported by multiple vendors, manufacturers, and service organizations.
They are community based, enabling more contributions and input on how protocols are developed.
Multiple parties can have software and hardware integrations, giving you freedom of choice.
There is no licensing fee to use the protocol.
Together, these benefits touch the crux of open protocols – interoperability and flexibility with multivendor support, integrations and communities.
If you are still working with older proprietary systems, you may find some frustrating disadvantages. With proprietary systems, you are locked down to a single vendor for services and repairs. Also, a proprietary system may not be receiving any updates moving forward. And some vendors may claim to be open but still have licensing fees, hidden information or other hidden costs.
The frustrations with proprietary systems are why KMC created the KMD-5551E Translator, which allows buildings running entirely on KMD devices to tie seamlessly into BACnet systems by translating between KMD devices and networks to a BACnet network.
KMC is proud to build our automation equipment on top of fully open protocols like BACnet. By being an open, secure and scalable solution, we seek to best serve and support our customers. And you can better serve your customers by providing equipment that will give them freedom of choice, control and their future.
Image that even right now as you read this, you are using the world's largest open protocol, TCP over IP (the internet). And as operation technology and controls systems continue to use more open protocols to operate with other control systems and IT systems, the future of automation will be in the Internet of Things, connecting all systems for a smarter more efficient future.