We are glad you found our newly redesigned website, www.KMCControls.com! The site features expanded search options, customer Partner Portal and online education options. We have also introduced KMC Central, our new portal for licensing.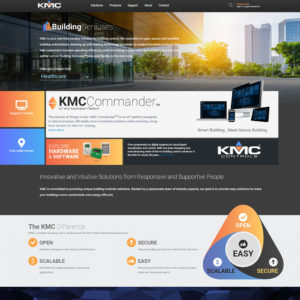 With the new search feature, you can search by keyword, product, even partial product names. Once your results come in, you can refine your results further using the filters. This allows you to pull results from specific product categories or features, and even lets you focus on documentation, downloads, blog posts and more. Also, on the main search page, you will find popular destinations on the website, as well as top search results – the most searched phrases on the site.
There is also a search specifically for downloads, documentation or videos. Mouse-over the Support tab in top menu and click "Downloads & Videos." Enter your keywords in the search bar and press enter or click search. Under the result type filter, select the type of file you are looking for to drilldown your results.
Keep in mind that search results differ depending on whether or not you are logged in to the Partner Portal. By logging in, you are allowed access to additional options for firmware and software.
The updated Partner Portal now allows you to tailor your individual users' access to needed sections and features of the site. The Partner Portal dashboard shows your account information, as well as your recent orders and invoices. One new feature of note, you can now download your invoices as a PDF from the portal.
There are a few additional changes to the Partner Portal we'd like to highlight. First off, there are four different user roles, each with different levels of access.
Administrator: Full access to the site and can add and delete users for their organization, as well as manage their roles.
Buyer: Full access to the site, minus user management.
Planner: Access to documentation and can view pricing details. They can place items in the cart but cannot finalize a purchase. They can save and share the cart with a Buyer or Administrator, who can then make the purchase.
User: Basic access, limited to documentation.
Users can now add your own shipping address for purchases in the updated Partner Portal. Previously, this was limited to addresses tied to the account, and updates were made through our customer service department. Also, you are now required to identify the project name when ordering software.
The Training section allows you to register for classes both online and instructor-led. It also offers a growing online training library with a new "gamification" element. Once you click on the Training tab in the Partner Portal, you will find four options: Instructor-Led Training, Course Catalog, My Courses and My Certifications.
Instructor-Led Training is the current list of in-person KMC classes open for registration. Here you can register for a class, download the Student Guide, contact KMC Training regarding hosting a class or requesting a private class.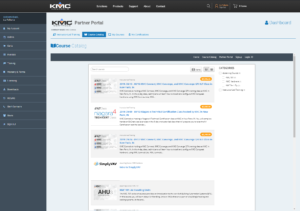 Under the Course Catalog, you will find available courses – including online eLearning – and can filter them by topic. To register for online training, select a course and click the "Get This Course" button.
Under My Courses you can access the courses you have already selected and see your current status in each. When you click on an online course, you can access the course, or click-through to your training profile. Here you can update your profile information and see your course list.
The Progress tab overview gives you a quick look at your activity, progress badges and ranking. The Courses tab shows your progress, score, enrollment and completion dates, as well as how much time you've spent in the course. The Tests tab shows the result, score and time spent taking the tests. Badges shows you all of the badge options, earned and unearned. The Timeline tab shows you all of your actions in the system, from adding courses, test results, badge earns and more. You can download your information as an infographic or spreadsheet.
Under My Certifications you will find a list of your earned certifications from attending an instructor-led training class, when they were issued and when they will expire.
A new addition is KMC Central, where you manage licensing. From the Partner Portal, click Licensing from the left menu. This will take you to the login page for KMC Central. Once signed in, you can manage both hardware and Cloud licenses. Here you can activate new licenses or renew ones near expiration. Click on a serial number to view license details. You can see keys, license status and more.
We've created a video playlist to walk you through some of these new features. Check it out!
We hope you enjoy exploring our new website!