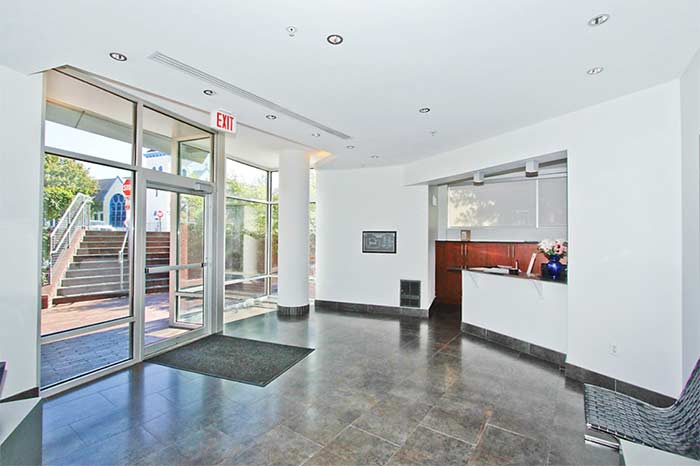 Executive Summary
KMC Commander is an IoT platform designed to help businesses affordably solve immediate problems while providing a long-term solution for future development. The Beauregard, a luxury condominium, had a malfunctioning sump pump system which flooded the underground parking garage. The facility did have an alarm system, which only let out a hard-to-hear sound. With KMC Commander's email and text alarm capability, The Beauregard's basement could stay dry.
The Problem: Ineffective Alarms
The Beauregard opened in 2007 as a luxury condominium building. Nested in the heart of downtown Washington, D.C., The Beauregard is the epitome of modern architecture, yet complements the historic district nearby. This 49,000-square-foot complex hosts 43 condominium apartments and includes an underground parking facility for residents. Located in the basement of the parking garage, the sump pump system is critical infrastructure for the building. When the sump pump malfunctions, the garage floods. The facility operator at The Beauregard had a issue: No one knew when the sump pump failed. An alarm sounds when this happens, but someone must be present in the garage basement to hear it – essentially by happenstance – so they could notify operations to prevent flooding. There is no alert system to accompany the audible, onsite alarm. ABM, the facility manager for The Beauregard, was looking for a proactive solution to better watch the sump pump system for its client, as well as watch other metrics, including heat pump efficiency and temperatures in common areas such as the hallways, main lobby and gym.
The Solution: KMC Commander
KMC Commander was installed to help ABM better monitor alarm status on The Beauregard's sump pump system, track discharged air temperatures and trend heat pump efficiency. The building is utilizing the customization of KMC Commander by establishing email notifications on alarm status. For example, when an alarm is first triggered, two team members are automatically emailed. If the alarm continues unacknowledged for a set period of time, four additional members are emailed. According to Scott Roux of ABM, this notification has allowed them to repair the sump pump system before basement flooding occurred, and with monitoring of the air temperatures, they are forewarned of any potential equipment problems early on. "This is a proactive solution to our service client's issues," Roux said. "The alarms allow us to send a crew to The Beauregard at the earliest signs of a problem – or what could lead to an issue – minimizing damage, or even avoiding problems entirely."