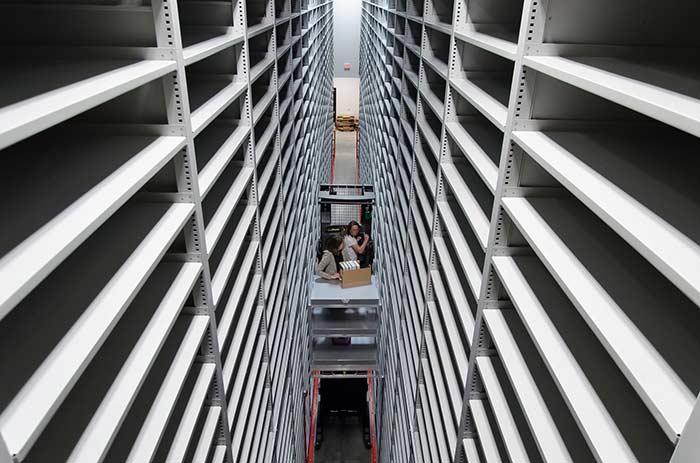 Executive Summary
KMC Commander is an IoT platform designed to help businesses affordably solve immediate problems while providing a long-term solution for future development. The Washington Research Library Consortium (WRLC) had a serious issue with its existing BAS: whenever the phones were offline or the Internet was down, no alarms were activated. With KMC Commander's reliability, the WRLC's fragile materials could stay protected.
The Problem: Critical Storage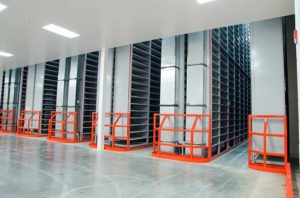 WRLC was founded in 1987 to coordinate library collections between thirteen partner universities located in the greater Washington, D.C. metro area. The WRLC facility is a large centralized storage area for materials shared among the member libraries. It requires precise temperature and humidity levels, necessary for the maintainance and preservation of these documents – The WRLC facility is home to more than 1.8 million print volumes and 40,000 archival boxes. It also has two units for low-temperature storage, designed specifically to protect fragile film media. The facility had a building automation system (BAS) in place, which included alarm capabilities, but it could be unreliable at times. Alarm notifications would fail if the building automation system went off-line under certain circumstances. The WRLC needed a reliable, affordable platform that would notify the team of unwanted changes in temperature and humidity, as well as potential equipment malfunctions – even when the facility's building automation system was offline.
The Solution: KMC Commander
KMC Commander was installed on top of the existing BAS at the facility. The Dell Edge Gateway is used as a backup for when the primary system experiences a malfunction that prevents alert notifcations. The team receives an alarm when the system fails to meet the steady 60˚ temperature and 40 percent humidity-level required to preserve the media stored onsite. KMC Commander's open, cloud-based interface allows the platform to work with the facility's complicated building network: BACnet controls from three different manufacturers, each controlling a variety of devices including a chiller, water pump, air handler, valves, dampers and more. According to Scott Roux of ABM, the BAS service provider for the facility, "KMC Commander allows us to be more proactive in maintaining the WRLC building. This is a very involved, very critical job, with almost museum-like specifications. KMC Commander helps us better serve our customer, fulfilling their high expectations."