The KMC Commander IoT platform as a service (PaaS) makes system interconnectivity, data visualization, and energy optimization for small and medium buildings easier and more cost effective than ever before. The platform is based on Dell Edge Gateway 5000 Series hardware and features Intel® processors and a specialized Ubuntu Snappy Linux software stack. Commander's analytics are powered by an enhanced data tagging and visualization framework from J2 Innovations.
"The IoT market is saturated with solutions that claim to be cutting-edge, but which end up being clunky and hard to use," said Andy Rhodes, executive director of Commercial IoT Solutions at Dell. "KMC Commander, built with Dell's IoT Gateway, provides a truly open and secure platform to connect building automation systems seamlessly to the decision-making power of IoT. Our partnership is a perfect example of solutions that are specialized enough for the data demands of operational technology (OT) yet seamlessly manageable in an information technology (IT) environment."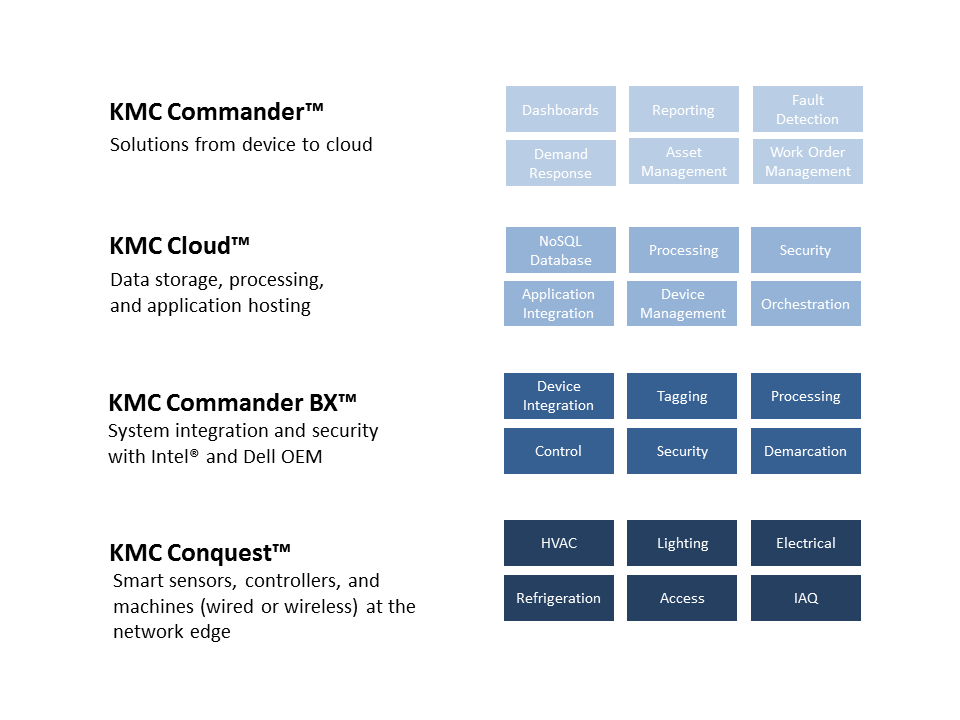 As more and more devices are connected to IoT, purpose-built appliances such as KMC Commander are vital to ensuring secure cloud connectivity and fully unlocking the power of cloud analytics.
"KMC Commander will revolutionize the way buildings and building portfolios are managed," Richard Newberry, strategic advisor to KMC's board of directors said. "IoT connectivity is the future of the building automation industry, and KMC Commander is the only IoT solution designed from the ground up to meet the demands of this market."
Parties interested in a demonstration of KMC Commander are invited to visit KMC Controls in booth #1219 at the AHR Expo in Orlando, Florida from January 25th through 27th.

About KMC Controls
Founded in 1969, KMC Controls is an American manufacturer of open, secure, and scalable building automation solutions. From secure hardware devices to smart and connected software, KMC delivers embedded intelligence and optimized control.
KMC is committed to providing industry-leading Internet of Things-enabled automation solutions with leading tech suppliers to increase comfort, convenience and help reduce energy usage.
KMC Controls®: Building Genius™ from the edge to the cloud.  www.kmccontrols.com

About Dell
Dell Inc. listens to customers and delivers innovative technology and services that give them the power to do more. Dell takes a pragmatic approach to the Internet of Things (IoT) by building on the equipment and data you already have, and leveraging your current technology investments, to quickly and securely enable analytics-driven action. With a comprehensive solution portfolio including edge gateways and powerful analytics tools, and pragmatic approach, Dell reduces the complexity, lowers the risk and increases the speed of deploying IoT initiatives. For more information, visit www.dell.com/IoT.