You need flexibility. So, we've designed our KMC Conquest product line to be flexible. A key piece of this is the expansion modules. You can add inputs and outputs going through a general purpose controller by simply daisy chaining the modules together. We NOW offer two different expansion modules: the CAN-5901, an 8 by 8 I/O module with HPO card slots for the outputs, and new to the line-up, the CAN-5902, an input-only version.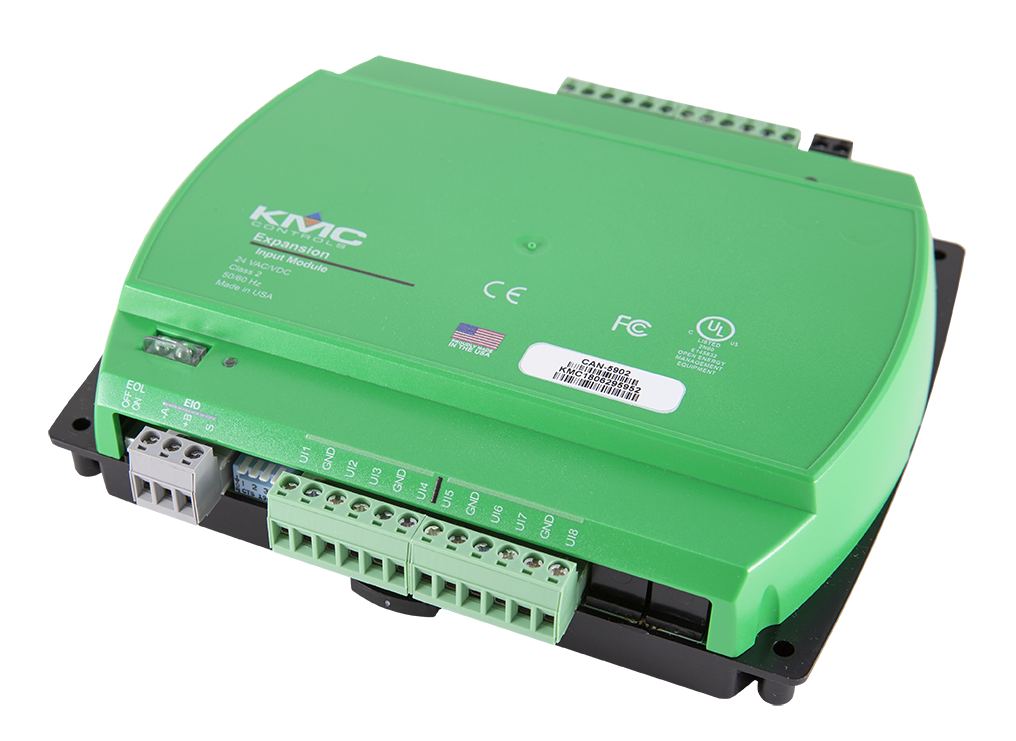 CAN-5900 Expansion Modules
The CAN-5902, which looks a lot like our BAC-9300 unitary controllers, includes 16 inputs. This many inputs previously required two CAN-5901 modules. We hope by doubling the inputs available in a single module, you can save time and money on your installs.
Using the integrated terminals to daisy chain up to four expansion modules, you can now access up to 74 inputs and up to 40 outputs on a single general purpose controller. These can be used with equipment such as air handling units, boilers, chillers, pumps, cooling towers, roof top units, heat pump units, fan coil units and more.
You can also mix and match between the CAN-5901 and CAN-5902 modules to get the right mix of inputs and outputs for your project. For example, one BAC-5901 general purpose controller with two of each expansion module gives you 58 inputs and 24 outputs, while one general purpose controller with four CAN-5902 modules gives you 74 inputs and eight outputs. (The BAC-5901 has 10 inputs and 8 outputs of its own.)
When daisy chaining these modules together, it is essential to manually address them using the dip switches on the bottom of the modules. It can be a little tricky at first, so we've made a video to help properly address these them:
For more information on the CAN-5900 expansion modules, check out the data sheet.