With a record attendance, it was no wonder AHR 2017 was so impactful for so many. For us at KMC, the people we had the pleasure to meet and the conversations we had were fantastic. Plus, the feedback we received when sharing our innovative solutions solidified our optimism for the rest of the year (and beyond!).
In our booth, we shared product enhancements and features for our latest IoT and automation solution: KMC Commander, as well as KMC Conquest, KMC Connect, KMC Connect Lite and KMC Converge.
KMC Commander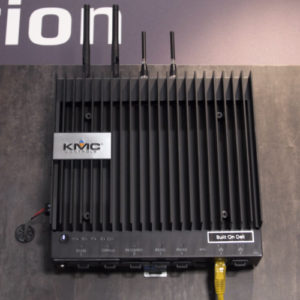 Over the last three years, we've been hard at work developing a solution (with our partners Intel and Dell) that will allow businesses and building owners to capitalize on the promises of IoT affordably, bring them decreased energy usage, higher operating efficiencies, and safer, more comfortable environments. KMC Commander is that solution, and it is being adopted more and more by companies looking for an open and scalable IoT platform. We showed the progress we've made on the user interface, displaying meter and sensor data in easily digestible Cards, while also allowing quick access to more detailed information, trends, and more. We also discussed recent projects that use KMC Commander, like Beauregard Condos in Washington, D.C. Another topic that came up a lot was the concern of cybersecurity. Using our latest brochure, we talked about nine built-in security features that immediately begin protecting your platform and data. Lastly, we discussed some exciting updates coming soon to our KMC Commander platform… stay tuned!
KMC Conquest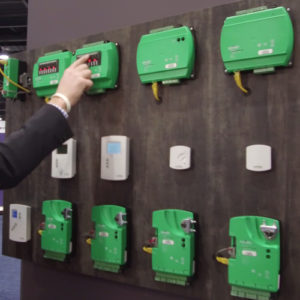 Last year, we introduced our latest KMC Conquest line of BACnet controllers. All fully programmable, these advanced application controllers allow you the flexibility your project demands. Like KMC's BAC-9000 series of VAV controller actuators, which include integrated alarming, scheduling, and trending, enabling these to be powerful edge devices for the modern smart building ecosystem. Also, KMC's BAC-5051E BACnet router showed well at the show. This solution seamlessly routes BMS data across IP, Ethernet and MS/TP networks providing in-depth diagnostics of the serial network. The router will automatically learn the network and find the total number of devices, frame counts, frames in error, data frames, duplicate MAC addresses, and poll-for-master count. For temporary access, a technician could use a single USB cable to provide the router power and facilitate data transfer to run these network diagnostics on the go. The best part: all of this is done via an embedded HTML5 interface, without the need for special software.
KMC Connect Lite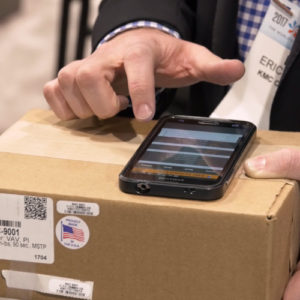 Shown alongside our KMC Conquest line of products, KMC Connect Lite is a mobile app used to pre-commission those controllers before being installed. A process that normally takes a considerable amount of time, you can pre-commission a controller using KMC Connect Lite from start to finish in under 2 minutes. How? Using NFC (near field communication) technology, you can take a controller while it is unpowered and still in factory pricing, place your phone over the NFC sticker on the box, and configure the device from your phone. No unpacking. No connecting power. No laptop software. No repacking for the jobsite. KMC Connect Lite truly is a game changer and a huge innovation for our industry.
KMC Connect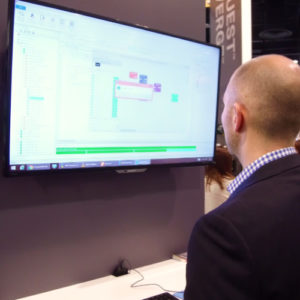 Demonstrated at AHR, KMC Connect is a desktop configuration software tool used to configure KMC BACnet controllers for a building automation system. With KMC Connect, you can build jobs offline and then deploy them on-site with a single click. Also, use wizards to quickly and easily configure alarms, schedules, and trends on native BACnet devices, as well as quickly balance VAV units with the VAV balancing application tool. KMC Connect comes with an extensive application library, including hundreds of HVAC applications with preconfigured set-ups for KMC controllers and accompanying documentation. In addition, enjoy continuous commissioning with the Audit application. One of the biggest additions this year, Block Programming, giving you ultimately flexibility and choice in configuration processes.
KMC Converge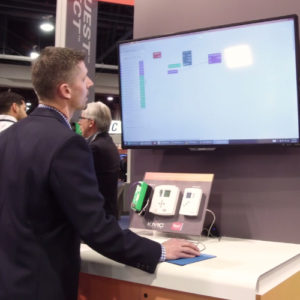 Finally, we dedicated a section of our booth to our KMC Converge solution built on Niagara. Enjoy all the features and integrations of Niagara, plus enhancements to configure KMC controllers, bring additional advanced applications, perform auditing, and create graphics with KMC Converge GFX. The KMC Converge GFX is a tool used to configure and generate responsive, HTML graphics for KMC Converge AX or any other open brand of the Niagara AX Framework. GFX allows you to easily configure your graphics using familiar Niagara AX properties, and the responsive graphics can be viewed on any device with any size screen and still look great. Like KMC Connect, one big update this past year was the addition to Block Programming to our KMC Converge solution.
Looking forward to a great 2017!
Finally, KMC would like to say "Thank you!" to everyone who stopped by the booth! We are excited about our industry and for new things coming in 2017. If you haven't already, check out the short recap video above to see a brief message from our CEO, Richard Newberry. Lastly, huge shout out to Intel and Dell for being incredible partners as we evangelize IoT together!