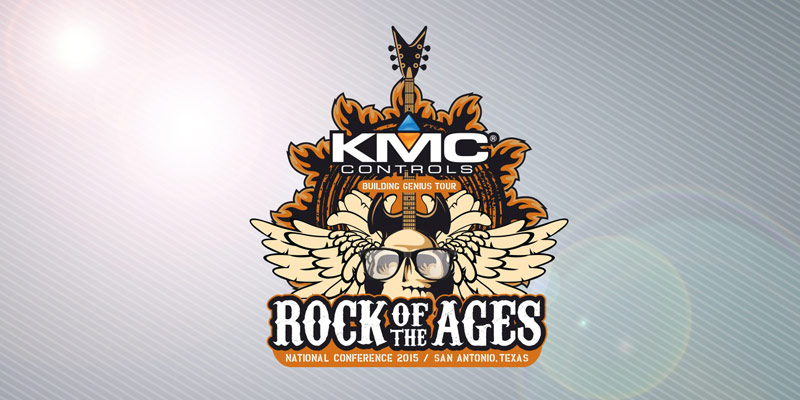 Registration
The KMC 2015 customer conference officially kicked off on the final evening of September at the Westin on the Riverwalk hotel in San Antonio, Texas. KMC guests came together on the riverwalk level of the hotel to register, enjoy finger food, and cocktails. It was a great time catching up with old friends, meeting new ones, and listening to karaoke. The excitement was notable, and it was apparent that everyone was interested in discussing and learning about KMC's new direction and new solutions.
Day 2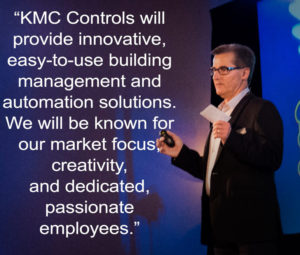 Thursday was the first full day of the customer conference. The morning opened with breakfast and a rock-and-roll soundtrack, establishing the "Rock of the Ages" theme for the weekend.
KMC's Richard Newberry came on stage, welcoming everyone to #KMC2k15. He spoke about the journey that KMC Controls has been taking the last 18 months; where the company had come from, and how KMC has set its new course.
"We needed to take a look at how to take KMC into the future and be a leader in building automation," Newberry said. "And over the last 18 months, we have really been working towards developing our new vision: KMC Controls will provide innovative, easy-to-use building management and automation solutions. We will be known for our market focus, creativity, and dedicated, passionate employees."
Newberry spoke about KMC's new partnership with Dell and Intel to produce the latest technology that brings building automation and the Internet of Things another step closer together. He also announced the launch of KMC's new website, which went live Monday, Oct. 5. Newberry then welcomed a message from Intel's Doug Davis, senior vice president and general manager of the Internet of Things group at Intel Corporation (via video) before turning over the stage to keynote speaker Rick Dwyer, vice president and general manager of direct and channel sales at Intel.
A Message from Rick Dwyer
Dwyer spoke to the attendees about the evolution of the Internet of Things and what it means to the building automation industry. He explained that Intel's IoT position is unique in that all of its devices run on the same architecture, from the device level to the cloud/server. He encouraged the attendee's to talk to Intel and Dell representatives about their concerns, their ideas, and ask questions about the new technology that is coming to the market.
"Collaboration is key: you are the experts in this space," Dwyer said.
Dwyer asked attendees to be open and transparent about their ideas, concerns, and thoughts about the marriage of IoT and building automation.
Next, a mix of long-time and new systems integrators took the stage and talk about why they work with KMC.
Commitment to Customers & Quality
Jody Byers of ABC Controls gave an entertaining recap of his business and personal relationship with KMC employees over the years. He talked about KMC's commitment to what their customers need and the success the partnership has brought him, and reinforced KMC's position as the most responsive and supportive solution provider in the industry.
Dave Mosby of Building HVAC Solutions took the stage next, and discussed KMC's commitment to quality and customer support, which led him to become a partner.
The End of Day 2
Breakout sessions were scheduled for the rest of the day. Attendees split up and joined speakers to learn more about KMC software (Connect™, Connect Lite™, and Converge™), IT/BMS-tech, sales tools, and emerging IoT technology. Attendees also had the opportunity to mix with representatives from Dell and Intel to discuss the safety and security of the Internet of Things, and how next-generation connectivity works.
The day was rounded out with an evening cocktail hour hosted by Dell.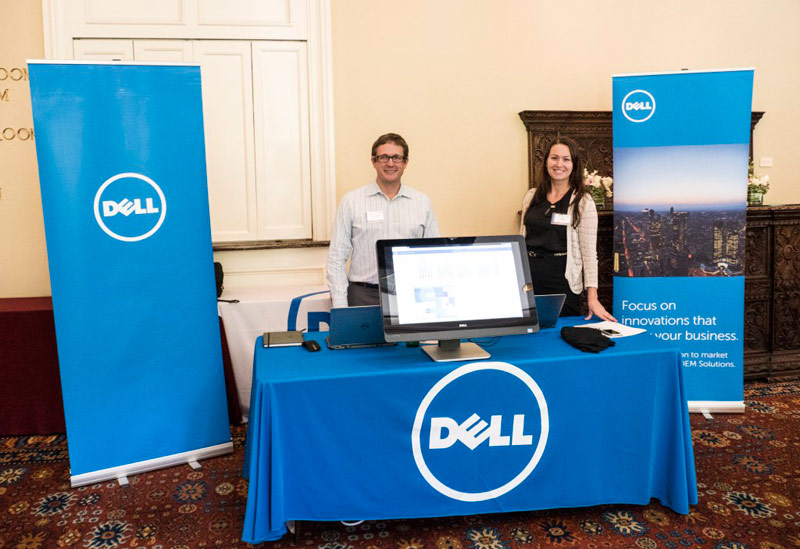 Day 3
Day three of #KMC2K15 started out with Michael Dell welcoming guests to the event via a video.
Keynote speaker Andy Rhodes, executive director of IoT at Dell, followed. He presented Dell's vision of the Internet of Things, the effects that it is having on several industries, (including the building automation), and why it is so important to today's growing society.
Additional Speakers
Erich Kreuter came up to introduce the roadmap of upcoming technologies and solutions in KMC's development pipeline, which was met with an enthusiastic reaction.
Brad Kehler and Dave Bohlmann presented a first look at the KMC Commander platform that was announced on Thursday, Oct. 1, 2015. They demonstrated some of the key solution features, and the simplicity of deployment. KMC Commander will be released in the first quarter of 2016.
Finally, systems integrators Mark Balent of LONG Building Technologies and Bill Harris of Daikin Applied spoke about their experiences in the building automation industry and how KMC Controls has been an integral part of their business.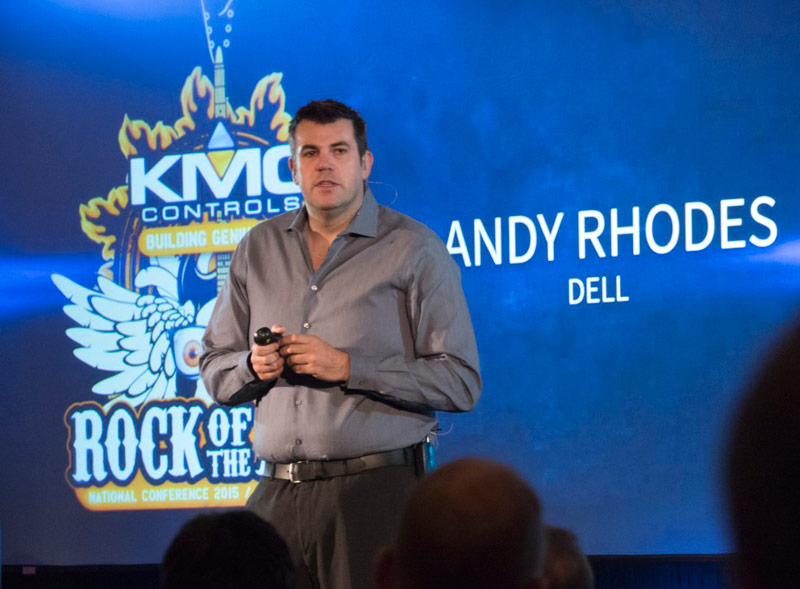 The rest of the day continued with break out sessions. They ranged from strategic selling, to time management and delegation, to the positioning and value proposition of KMC's newest products and the new Commander platform.
The classes were taught by representatives from Dell, Intel, and by KMC Controls engineers and sales team, along with other experts from the BAS industry.
Day 4
Saturday was a time for a little more relaxed and fun time. After meeting for breakfast, conference attendees headed out for an afternoon at Topgolf, hanging out, networking, and earning surprisingly high scores. Prizes were given away for the highest and the lowest scores of the afternoon.
After a short break, the group came back together at the Westin Riverwalk hotel for a last night of festivities that included a three course dinner and concert. Mr. and Mrs. Smith of Harrah's in Las Vegas were the evening's entertainment, with a little surprise help from KMC's new spokesperson, KMC Rob.